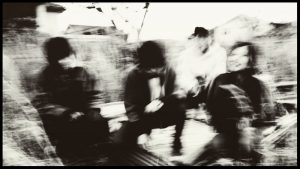 A couple months back, Kyoto newcomers Browned Butter released their first recorded material in the form of a single track titled "Fall".  The song would be more formally introduced via net label Ano(t)raks' DIE IN POP compilation album.  Just this past month the band released a debut 3-track EP of the same via the same label.
At first listen, the title track follows a pretty standard pattern for Japanese shoegaze with the blaring lead, somewhat subdued guitar backdrop, male-female twin vocals, and the stripped-down verse crescendoing into the bridge.  But while this format can be boring in some cases, Browned Butter's sound has a really good balance to it.  The male and female vocal parts complement each other really well and sit really well in the mix.  The melodies are catchy and simple.
The album's second track offers something a little different, playing a bit more like something inspired by "Three Out Change".  It's more of a deliberately paced guitar rock track, with those excellent breathy vocal harmonies really shining on top of another simple but fun guitar hook.
"Fever", the third and final song, might be the best of the bunch.  Again, it's pretty different from the previous two songs, featuring more of the elements of a shoegaze tune.  The vocals in the verse are chilling and when the song explodes into the chorus they just fit in there brilliantly.  It's a powerful track.
Though a three-track EP is a pretty small sample, Browned Butter showed some good versatility on their debut.  The songwriting is really solid and the vocals are stunning.  "Fall" is a great start.  Let's hope they keep it going.